COOL AS A CUCUMBER: TREATT HIGHLIGHTS POTENTIAL OF VEGETABLE-BASED BEVERAGE TREND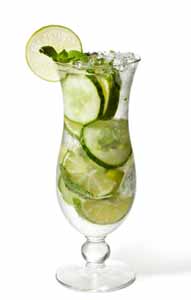 Treatt, a leading flavour and fragrance ingredient solutions provider, is experiencing increased demand for its Treattarome® range of 100% natural distillates in line with the growing popularity of vegetable-based beverages amongst consumers. The company's expanding portfolio of 'From the Named Food' (FTNF) vegetable-based ingredients features an array of flavour profiles – including cucumber, tomato, bell pepper and jalapeno – to allow manufacturers to create on-trend vegetable beverage products.
"From vegetable-based smoothies to energy drinks and juices, vegetable-flavoured beverages are moving from the niche to the mainstream. With 55 per cent of people globally making a conscious effort to eat as many vegetables as possible, the so-called 'healthy halo' of vegetable-based beverages makes them a hit with consumers and the trend is spreading across nearly all beverage sectors," explains Douglas Rash, Group VP – Global Sales, Treatt. "Indeed, Datamonitor identified vegetable-based drinks as one of the top 10 consumer packaged goods trends to watch in 2014[1]."
Developed using proprietary technology, Treattarome ingredients are produced using a short duration, low temperature distillation process to guarantee maximum flavour entrapment. By entirely replicating the character of the fresh vegetable, the distillates can be used to deliver a unique and authentic aroma to a wide variety of beverages. For example, Cucumber Treattarome 9721 imparts a fresh, green cucumber flavour and is particularly effective in clear beverages where unusual, tropical notes are required. Green Bell Pepper Treattarome 9723, on the other hand, is wholly distilled from fresh green peppers and delivers a green and astringent flavour to adult beverages and fruit juices.
The innovative ingredients are water soluble and highly concentrated and can be added to a variety of formulations at dosage levels of as little as 0.05%. This makes the distillates ideal for use in clear beverages and applications include alcoholic drinks, juices, carbonated soft drinks, smoothies and flavoured waters.
[1] http://www.datamonitor.com/store/News/10_trends_to_watch_in_consumer_packaged_goods_in_2014?productid=7AA8C683-07C0-45C9-A063-35A29F095821