Innovative ingredient solutions
Treatt® is one of the world's longest established ingredient solutions providers to the flavour, fragrance and personal care industries. Our diverse product portfolio is the result of over 125 years of technical expertise and experience in the global sourcing of flavour and fragrance raw materials. Through our personal care division, Earthoil, we also offer naturally-derived personal care ingredients, specialising in organic and fair trade, reflecting our commitment to ethical and sustainable practices.

Exciting flavours, fragrances and personal care products require innovation. We provide the ingredients for your inspiration.
Market Intelligence Issue - June 2016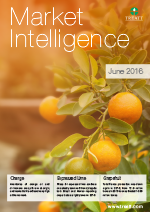 In this issue we will be introducing you to our VP of Global citrus procurement and her views on this volatile market. In addition to the usual market news featured, you will also find an overview of our HIC range and an update from Earthoil. Happy reading.
Other features include:
Orange Oil - Inventories of orange oil and d-limonene are quite low at origin, and market talk is extraordinarily high at the moment.
Expressed lime - Prices for expressed lime continue on a steady downward trend, despite both Brazil and Mexico reporting crops that are slightly lower in 2016.